A theme party is a way to create a different reality for yourself and your friends, to move to any country and any era, to be in the image of your favorite characters!
Brazilian carnival style party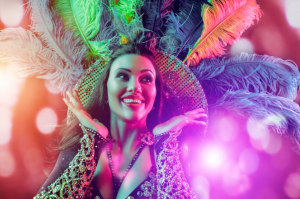 How to organize a theme party so that guests and the birthday person will definitely remember it? A cool idea is to arrange a real Brazilian carnival right in the loft! It is better to warn guests about the theme in advance so that they have time to prepare bright costumes. Girls can come to the party in multi-colored swimsuits decorated with feathers, rhinestones and sequins – everyone is their own in the loft, and there will definitely not be sidelong glances. A suitable outfit for guys is bathing shorts, a Hawaiian shirt and sandals.
Pay special attention to music – it should be dynamic and incendiary, use exclusive tracks for the most atmospheric parties, created by the best DJs especially for Bash Today.
During the party, it will be great to arrange a master class in lambada or samba.
The Brazilian party menu includes tacos, tartlets, fruits and vegetables. For dessert, you can order a bright cake with an edible carnival mask in the confectionery. According to tradition, a figurine of a child god is usually hidden inside the cake. The one who finds it in his piece will have good luck all year!
Party in gothic style
A goth hangout is an easy way to throw a classy party. The dress code for guests is extremely simple – black, leather, chains, massive shoes. Girls can make up their lips with purple or scarlet lipstick, line their eyes with black pencil or make vamp-style makeup.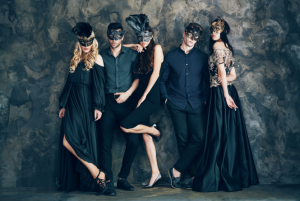 It is better to darken the room – you can choose a loft with blackout curtains for your party. Arrange candles throughout the room, decorate the location with skulls, cobwebs, black and red helium balloons. You can add dry ice to the interior, which will create a mysterious "fog". It's great if there is a smoke machine on the site of your choice.
To decorate the table, you will need black satin textiles, crystal wine glasses, elegant cutlery, dark ribbons and red roses. Treat your friends to marmalade in the form of eyes, snakes and frogs, "bloody" muffins with raspberry jam. Pour red wine or a Bloody Mary cocktail into glasses.
For the entertainment of guests, organize a tarot card reading or a mystical quest.
Party in the style of "India"
If you are thinking about how to throw a mehendi party, a great idea is to organize a celebration entirely dedicated to Indian culture.
To decorate the site, you will need garlands of fresh or artificial flowers, incense, aromatic oils, multi-colored fabrics with traditional patterns, pillows with tassels and fringe, figures of elephants and monkeys. You can print images of Ganesha – a cheerful god in the form of a half-elephant-half-man.
An invited master can decorate the hands of guests with mehendi, another option is to buy special henna in a needlework store and try to paint the palms with patterns yourself.
India is also famous for its serials and dances. To have a fun party, prepare some episodes with traditional shootouts, escapes and dances – let the participants act out these scenes in teams and laugh from the heart!
Invite your guests to try the national dishes of Indian cuisine – chicken curry, fluffy flatbread, tea with milk and spices and halva. You can treat your friends to a hookah, because it was in India that the culture of smoking was born.
We have selected venues for parties in different styles to make it easier for you to find the perfect one.