Party based on your favorite cartoon or movie
This is the easiest way to style a holiday for kids. You don't have to go far! It is enough to remember which cartoon in your house is on repeat more often than others. And make sure that the fairy-tale world becomes a reality for your birthday at least for one day a year. On the basis of cartoons, children's parties are most often arranged for the smallest. Masha and the Bear, Fixies, Barboskins and Cars are favorite characters that will delight elegant little ones.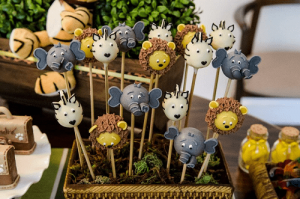 School of Magic
This is a Harry Potter fan's dream. Imagine how surprised the birthday boy will be when He-Who-Must-Not-Be-Named, Hermione and Professor Dumbledore come to celebrate. At the school of magic, they learn to conjure, brew potions and fly on a broomstick. They also tame lightning, learn to levitate and work miracles! You definitely won't be bored. As a dress code, black robes and wizard hats are perfect.
Harry Potter kids party
If your son is crazy about movies about the Wild West, and your daughter enjoys horseback riding, then a cowboy party will delight them like no other! For these purposes, you can book a few hours in the equestrian club. Or organize a holiday in the country in the yard. Use hay as a simple and inexpensive prop.
Children's birthday in the style of Cowboys
Almost every child, at some point in their lives, is fascinated by giant dinosaurs. They are ready to spend hours wandering through museums with the skeletons of huge lizards, read encyclopedias avidly and dream of becoming scientists when they grow up. If this is entirely your story, then feel free to call the agency for organizing children's parties, in the assortment of which there are life-size puppets of tyrannosaurs and pterodactyls and their other tribesmen. It's going to be the best birthday ever, you'll see!
Jungle or safari themed party
Great theme for an outdoor party! Stop sitting in 4 walls! Feel free to go out with guests to the yard, to the park, to the nearest square and even to the cottage! If your baby was born in the warm season, you can arrange an open-air celebration by turning guests into animals or young explorers of flora and fauna.
Birthday in safari style
Boys and girls love cartoons and superhero movies! Invite all possible superhumans to the party and you will find out how fun it is at such events. Ladybug, Spiderman, Catwoman, Batman and everyone else knows a lot about games and contests!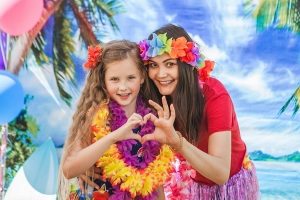 We will fight with pillows, overeat cookies and arrange a photo shoot in pajamas! We definitely won't be able to sleep! And with the dress code, the issue is solved very simply. You can arrange a competition for the best story under the covers, jumping in pillowcases, or the cutest ghost from the duvet cover. You can also show the children how we used to watch filmstrips by pulling a white sheet over the wall.
These are just a few of the themes suitable for children's birthday parties. There are many more – about a million! For each theme, you can choose a suitable entertainment show program so that guests and the hero of the occasion remember this day with a smile for many, many years to come.
Over the 10 years of its existence, the Sea Show team has organized children's parties on a variety of topics – from Little Red Riding Hood to author's programs designed specifically for one specific birthday boy! We are always ready to help you in organizing any party for any age and on any topic.