Tender and touching, mobile and sporty, for girls and boys – we offer the best ideas on how to organize a party for children from 2 to 16 years old. And you can always book a suitable loft for a children's party on Bash Today.
Birthday flower party style
If you are thinking about what style you can throw a party for a girl, a great idea is to organize a delicate flower celebration.
Pay special attention to the design of the room – it is better to invite a professional florist to such an event. It will decorate the site with flowers and create the atmosphere of a spring garden right within the walls of the loft.
The birthday girl can dress up in a fluffy dress or skirt in a bright color, a headband with flowers will become a beautiful accessory. Guests can be presented with bracelets with silk roses.
Decorate a table or candy bar with vases with rose petals. It is better to make treats light and colorful, offer guests desserts with icing flowers, fruits, berries, fresh juices and smoothies.
A master class on floristry will perfectly fit into the style of the holiday – an experienced presenter will teach participants how to create flower arrangements in just 1-2 hours.
Party in the style of "Monsters on vacation"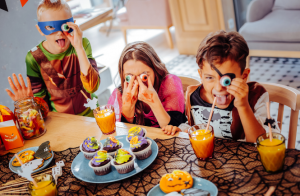 A cartoon about funny and clumsy monsters is loved by children and adults – use this idea to arrange a fun party. It is important that before the holiday, parents also watch at least one part of the cartoon, then it will be much easier to bring it to life. Invite the birthday boy and guests to choose images of different heroes – Dracula and his daughter, Frankenstein, the Egyptian Mummy, the Skeleton and Quasimodo will gather for your holiday.
For one evening, turn the loft into the Transylvania Hotel: black and purple colors and silvery details – stars, candlesticks – are suitable for decoration. You will also need figures of skeletons and spiders, black balloons and artificial web.
The festive table can be covered with a black tablecloth, and elegant cutlery can be placed on it. Decorate the candy bar with candles and frightening cupcakes with vampire fangs and bats.
There will be no problems with music for the party – the cartoon has a lot of moving soundtracks, to which children will happily arrange their own disco. You can order a neon show – the guys will be delighted with the luminous figures that appear in complete darkness.
Children's party in a marine style
At any time of the year, there is a way to give a child a summer mood – for this you can arrange a sea party! To design a loft, use not only all shades of blue, but also red, white colors. The room can be decorated with ropes and fishing nets, figures of ships and lighthouses, steering wheels and anchors. Hang a lifebuoy on the wall, and put glass jars with sand and shells on the festive table. Inflatable flamingos and a donut-shaped swim ring will be cool elements of the photo zone.
Dress up the birthday boy in the captain's cap, give him and the guests vests. To entertain the kids, arrange a sand painting workshop for them. From mobile competitions, treasure hunting and tug of war will fit perfectly into the theme.
The holiday menu includes fish, seafood salads, caviar tartlets and cupcakes with figures of underwater inhabitants. You can invite a bartender who will prepare colorful non-alcoholic cocktails for guests.
Teenage Mutant Ninja Turtle Party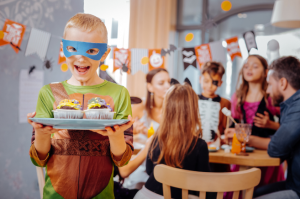 The boys are sure to be delighted to participate in such a party!
Before organizing the holiday, it is important for parents to watch a couple of episodes so as not to confuse the Turtles and their features.
Ask the birthday boy's friends to come in brown or beige pants and green t-shirts. Prepare red, purple, orange, and blue headbands for guests, as well as toy swords, nunchucks, tridents, and bo poles (sets are sold in toy stores).
Turn your loft into a turtle hideout with paper garlands, themed posters, and life-size puppets.
The main treat of the evening is pizza! Turtles love anchovy pizza, but it's better to play it safe and order different toppings so that everyone can find something to their liking.
Candy bar can be divided into 4 color zones: red, purple, orange and blue. In each place cupcakes, lollipops, marmalades of a certain shade. Sweet drinks can also be 4 colors, for example, cranberry and blackcurrant juice, orange juice and green tarragon.
Entertainment for fidgets should be as active as possible – organize a quest to "save the city", fight with artificial swords, competitions for accuracy, dexterity and speed.