Disney themed party
If your child loves Disney cartoons, they will surely love the idea of ​​throwing a Disney themed loft party. The theme of the holiday is suitable not only for girls, but also for boys – invite guests to come up with a cool image in advance. Girls can be Belle or Aurora for the evening, and guys can be Mickey Mouse, Olaf from Frozen or Fox from Zootopia.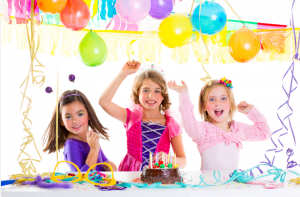 To decorate the room, you can print posters from Disney cartoons, garlands with flags depicting heroes, tablecloths and dishes with princesses. A fabulous atmosphere will be created by floral decorations and helium balloons of various colors. The photo zone can be decorated with soft toys of characters, children will definitely be delighted to be photographed with them. Place Snow White's caramel apples, Belle's edible roses, and Jasmine's oriental baklava on the table.
Pink style party
A pink party is a cool idea to throw a nice party without spending a lot of money. The dress code is extremely simple – invite friends dressed in all shades of pink and white. Yes, yes, boys too!
The choice of decorations for decor is huge: you can easily find pink garlands, lush tablecloths and disposable tableware. So that the design is not monotonous, we advise you to dilute it with silver details (candlesticks, trays, balls) – you get a really cool combination!
Book a themed candy bar with fabulous cupcakes, cake pops and lollipops. Pink macaroons, tender jelly and smoothies will also appeal to kids. Milkshakes with marshmallows and marshmallows will become a magical decoration – you can order a master class during which the guys, under the guidance of the presenter, will prepare amazing sweet drinks for themselves.
Arabian Night Party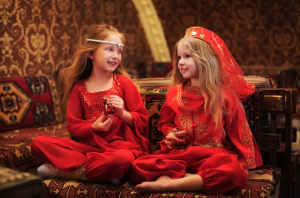 An Arabic-style party is an opportunity to give a child a real oriental fairy tale for their birthday. For inspiration, you can watch movies and cartoons about Aladdin and Princess Jasmine, re-read fairy tales from the collection "1000 and 1 Night".
To decorate the site, you will need an oriental carpet – lay it out in the very center of the room. Decorate furniture with velvet capes, satin cushions with fringe and tassels.
Girls can dress up in silk costumes of oriental beauties, tunics and headbands embroidered with coins, turbans and bloomers will come in handy for boys. Some of the guests can choose the image of Genie or Ali Baba.
To create a mysterious atmosphere of the East, turn on the aroma lamp or set fire to incense, put on a playlist of Arabic music.
The holiday menu includes oriental pilaf, kebabs, a lot of vegetable salads, for dessert – halva, baklava and nuts.
Fidgets will be happy with mobile activities: invite them to participate in the search for a magic lamp, a battle with toy swords or a belly dance master class. After the holiday, each guest can be presented with oriental bracelets as a keepsake.
Choose the theme that you like and have the coolest and most fun parties!