Organization of parties for children
How to arrange a holiday for your child? Everything is very simple – you can, of course, spend the whole day at the stove preparing delicious treats, come up with contests with souvenirs and invite all your child's friends, and then spend another half a night cleaning, but there is an easier way out – to organize a children's birthday in our club and you will immediately feel the difference. Fairy-tale characters will lead your children on an exciting journey, where they will learn how to draw, dance, sing and even help you with cleaning in a playful way. If your child has already grown out of a fabulous age, we will organize and hold a real holiday for your child, where, under the supervision of our specialists, all guests will be able to feel at the center of the loudest birthday party.
Birthday is the holiday that children look forward to the most: congratulations from friends and family, gifts, surprises – after all, every child, regardless of age, wants to be in the spotlight. The specialists of our company will help you organize an unforgettable birthday for your child according to an individual scenario.
Gifts, cake and joint games of a crowd of friends are, of course, great. But it is much more interesting to be a real superhero, go in search of treasures. Or maybe the whole tribe to hunt? Successfully choose the theme of a party for children – a chic gift for a child and his friends, because such a holiday gives a good mood, new emotions and pleasant memories!
Pirates Children's pirate party will turn an ordinary birthday into a real adventure! To begin with, we transform into corsairs – an eye patch, disheveled hair, a cocked hat or a bandana and, of course, a saber! In such a funny way, the guys will go to look for treasures, overcoming "difficult" tests along the way – funny thematic contests.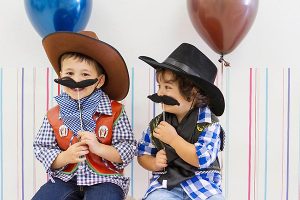 Sea Caps, guises and striped T-shirts, cardboard anchors on the walls, life buoys, fishing nets. Sand, shells, paper marine life in garlands – bright, summery, fresh and fun! The content is reminiscent of a pirate theme: the same sea adventures, but without the risk of going to jail (although what kind of pirate is afraid of danger?!). Guests can get into a storm or land on an uninhabited (inhabited by natives?) island, defeat a crocodile, climb over lianas to the other side of the swamp and find treasures! Spies Armed with magnifiers and other spy attributes, go in search of evidence to investigate the theft of a valuable cargo – gifts to all guests of the holiday. Riddles, puzzles, clues hidden in the room, encrypted messages – in the mysterious atmosphere of the detective genre it is easy to keep the attention of even an absent-minded kid..