The closer the children's birthday, the brighter and sharper the question arises: how to celebrate? Our little one is a year older. And we want him to remember his holiday for the rest of his life! The best way to please a little birthday boy is to arrange a theme party for a fun company. Make a guest list together and invite friends, classmates, neighbors, relatives and loved ones.
Theme of the child's birthday
In order for the holiday to be a success, it is better not to postpone its organization indefinitely. The sooner you start solving organizational issues, the more likely you will be in time for everything and even be able to enjoy the preparation process. Here is a sample to-do list: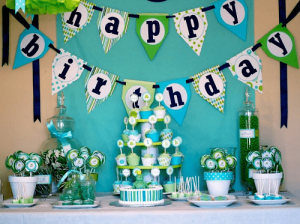 Choose a style for your birthday.
Decide on a place and date.
Make a guest list.
Consider a meal.
Choose decor.
Develop an entertainment program.
Think about whether to transfer all these issues into the hands of professional organizers of children's events. They know exactly what to do in such situations.
In the meantime, you will find out from friends and acquaintances who in your city is the best at children's holidays, let's see what topics are most popular among the younger generation today.
Zombie party for kids
Kids love horror stories! So they work with their fears and learn to be brave. If your kid is looking forward to Halloween more than any other holiday and asks to turn on the cartoon "The Secret of Coco" and "Ghostbusters", you can spend a holiday in the style of a zombie party. This option does not apply to the topic "children's holidays for the little ones." But it's a creepy fun party for older kids. Hire a make-up artist and stock up on costumes! Candles, cobwebs and a black cake will help create a festive atmosphere.
Zombie party for kids
Children are very fond of doing tasks and looking for gifts. Therefore, they are all just crazy about quests and walkers. It remains only to choose a theme! A pirate quest is a great birthday theme for a boy. Turning a cafe or a children's room into a real ship, assembling your own team and becoming a captain is the dream of any boy! Jeans with vests are a great dress code that will not cause trouble for the guests' parents.
Ethnic party styles for kids

You can organize a birthday by connecting knowledge of geography. Interesting, fun and useful! Does your daughter do Indian dances or does she like the cartoon about Aladdin? You can turn a cafe or apartment into an oriental bazaar or a real palace! Is your son seriously studying Chinese? You can think in this direction and arrange a samurai party. And you can all go together together to Africa or Hawaii! Choose any country and go ahead – make your dream come true!
Party based on your favorite cartoon or movie
This is the easiest way to style a holiday for kids. You don't have to go far! It is enough to remember which cartoon in your house is on repeat more often than others. And make sure that the fairy-tale world becomes a reality for your birthday at least for one day a year. On the basis of cartoons, children's parties are most often arranged for the smallest. Masha and the Bear, Fixies, Barboskins and Cars are favorite characters that will delight elegant little ones.